If you like your bluegrass along traditional lines then you'll like the new album by Mark Kuykendall (pronouned KIR-ken-dall), Bobby Hicks and Asheville Bluegrass. Down Memory Lane was just released on Rebel Records and there's a good mix of original and traditional bluegrass tunes on it. Kuykendall is not a household name in bluegrass although […]
Read More »
---
Bill Keith, newest member of the Bluegrass Music Hall of Fame, died on October 23, less than a month after being inducted into the IBMA's prestigious Hall of Fame. Bill accepted the honor in person at ceremonies held in Raleigh, North Carolina. Confined to a wheelchair, he uttered a brief but heartfelt acceptance speech, thanking his […]
Read More »
---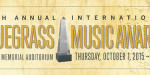 The big winners at this year's IBMA Awards were the Earls of Leicester who took home six trophies (although one of them was dropped on the stage by bass player Barry Bales and appeared to have suffered some damage.) As a group, they won "Entertainer of the Year," "Album of the Year," "Instrumental Group of […]
Read More »
---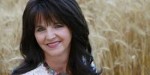 From Middlesboro, Kentucky, Tammy Jones Robinette has been singing all her life. She grew up recording and singing gospel music with her family from the time she was 8 years old. Her solo career in gospel music has resulted in a string of #1 songs on the gospel music charts and many of her original […]
Read More »
---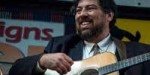 I had a chance to see Greg Blake perform with Jeff Scroggins and Colorado last year at IBMA and was very impressed with his singing and guitar-playing. Now he has a solo project out called "Songs from Heart and Home" and he's looking for some airplay. Greg is not only a talented and articulate guy, […]
Read More »
---
Older Entries »
Find an artist
This web site contains short profiles of the best known bluegrass artists and bands. Click on the A to Z listing above and scroll to the artist you are looking for.
Access the Bluegrass Calendar
In the navigation at the top of the website, choose a month and then scroll through the days.
Programming Suggestions
Need some music for holidays and other special occasions? Look to the right, I where you'll find the occasion and some song suggestions to meet your programming needs.
Some Background
Hi, I'm Wayne Rice, a bluegrass radio programmer from San Diego, California. I began compiling this material in 1988 for DJ's like myself who want to at least sound knowledgeable about bluegrass music on the air. Originally I published Bluegrass Bios® in a three-ring binder for a small fee but now it's conveniently located here on the web and it's free. Use it for your show prep, or just enjoy learning more about the amazing artists who play and sing bluegrass music. If you find errors or wish to make a suggestion, please contact me. Thanks!