RECENT POSTS: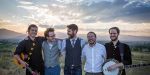 MEADOW MOUNTAIN From Denver, Colorado. Formed in 2015 by Summers Baker (guitar), Jack Dunlevie (mandolin), Ian Parker (fiddle), George Guthrie (banjo) and Wilson Luallen (bass). 2017, won the Rockygrass Band Contest. They have given a TED Talk on the history of bluegrass. They worked on a cruise ship as the house band. 2018, Sam Armstrong-Zickenfoos […]
Read More »
---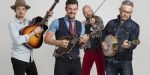 WE BANJO 3 From Galway, Ireland. Formed in 2011 by two sets of brothers: Enda Scahil (banjo) and Fergal Scahil (banjo, fiddle, viola, dobro, percussion, guitar, mandolin); and brothers Martin Howley (banjo, mandolin) and David Howley (lead vocals, guitar). They call their music "Celtgrass." Collectively, they have won numerous All-Ireland music awards: Martin holding 7, […]
Read More »
---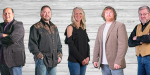 NO TIME FLATT From Humboldt, Tennesee (between Nashville and Memphis). Formed in 2015 by Patrick Cupples (bass), Steve Moore (banjo,guitar), Kevin Wright (guitar), Becky Weaver (fiddle) and Kevin Keen (mandolin). Their fans call themselves "Flattheads." 2017, 2018 won Bluegrass Band of the Year at the Tennessee Music Awards (held in Memphis). 2017, released self-titled album […]
Read More »
---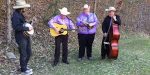 THE DOWDY BROTHERS From Catawba, Virginia. Formed in 2019 by Steven Dowdy (bass) and Donald Dowdy (mandolin). Their father Victor Dowdy was one half of the Bluegrass Brothers (with their uncle Robert Dowdy). Steven and Donald performed with the Bluegrass Brothers before starting their own band. Other band members include Tommy Conner (guitar), Mason Fisher […]
Read More »
---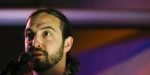 AARON BIBELHAUSER From Louisville, Kentucky. Name is pronounced "Bee-bull-how-zer." A singer/songwriter/guitarist who has written songs recorded by Balsam Range, Del McCoury, Michael Cleveland, Dale Ann Bradley and other bluegrass artists. He and his twin brother Adam have a Kentucky band called Relic. He is a past winner of the Chris Austin Songwriting Contest (at Merlefest). […]
Read More »
---
Older Entries »
Find an artist
This web site contains short profiles of the best known bluegrass artists and bands. Click on the A to Z listing above and scroll to the artist you are looking for.
Access the Bluegrass Calendar
In the navigation at the top of the website, choose a month and then scroll through the days.
Programming Suggestions
Need some music for holidays and other special occasions? Look to the right, I where you'll find the occasion and some song suggestions to meet your programming needs.
Some Background
I'm Wayne Rice, a bluegrass radio programmer from San Diego, California. I began compiling this material in 1988 for DJ's like myself who want to at least sound knowledgeable about bluegrass music on the air. Originally I published Bluegrass Bios® in a three-ring binder and sold it to DJ's around the country … but now it's here on the web and it's free! Use it for your show prep, or just enjoy learning more about the amazing artists who play and sing bluegrass music. If you find errors or wish to make a suggestion, please contact me. Thanks!